Mønten Nordvest: Northern Europe's Largest Open-air Gallery
A stone-throw away from Lucie Kaas's headquarters lives the largest Open-Air gallery in Northern Europe consisting of sixteen murals painted by some of the largest names in contemporary art today.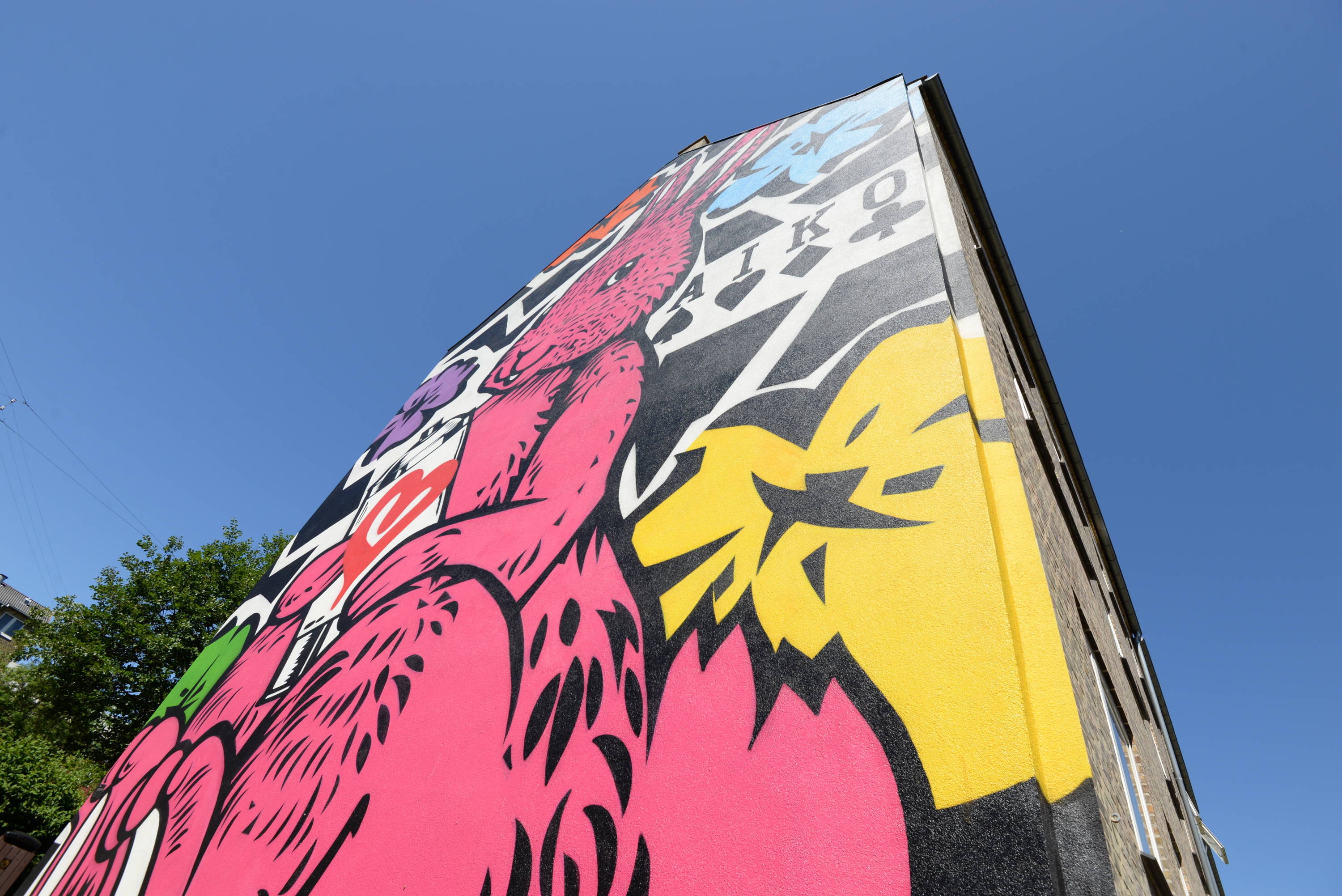 Mural by Tokyo-born, New York-based Lady Aiko
In September 2019, the last building platform was removed and the last of sixteen enormous murals at the residential complex A/B Mønten was finally completed after two years of hard work.

Both Danish and international artists such as CMP ONE, Lady Aiko, Boy Kong and Mad C created gigantic works of art which have transformed a rather anonymous residential complex, into a something of a crowd-puller attracting art aficionados from all over the World.
The guy behind the idea was Danish art collector and curator Jens-Peter Brask. Over the course of two years, he spent hundreds of hours on the project. Being one of the leading art collectors and experts in Denmark he spends a lot of his time supporting young up-and-coming artists. When asked, he gladly gives talks about his number one passion – contemporary art. Each year he curates a huge number of exhibitions and art projects as well as lends out art pieces from his gigantic collection to museums all over the World.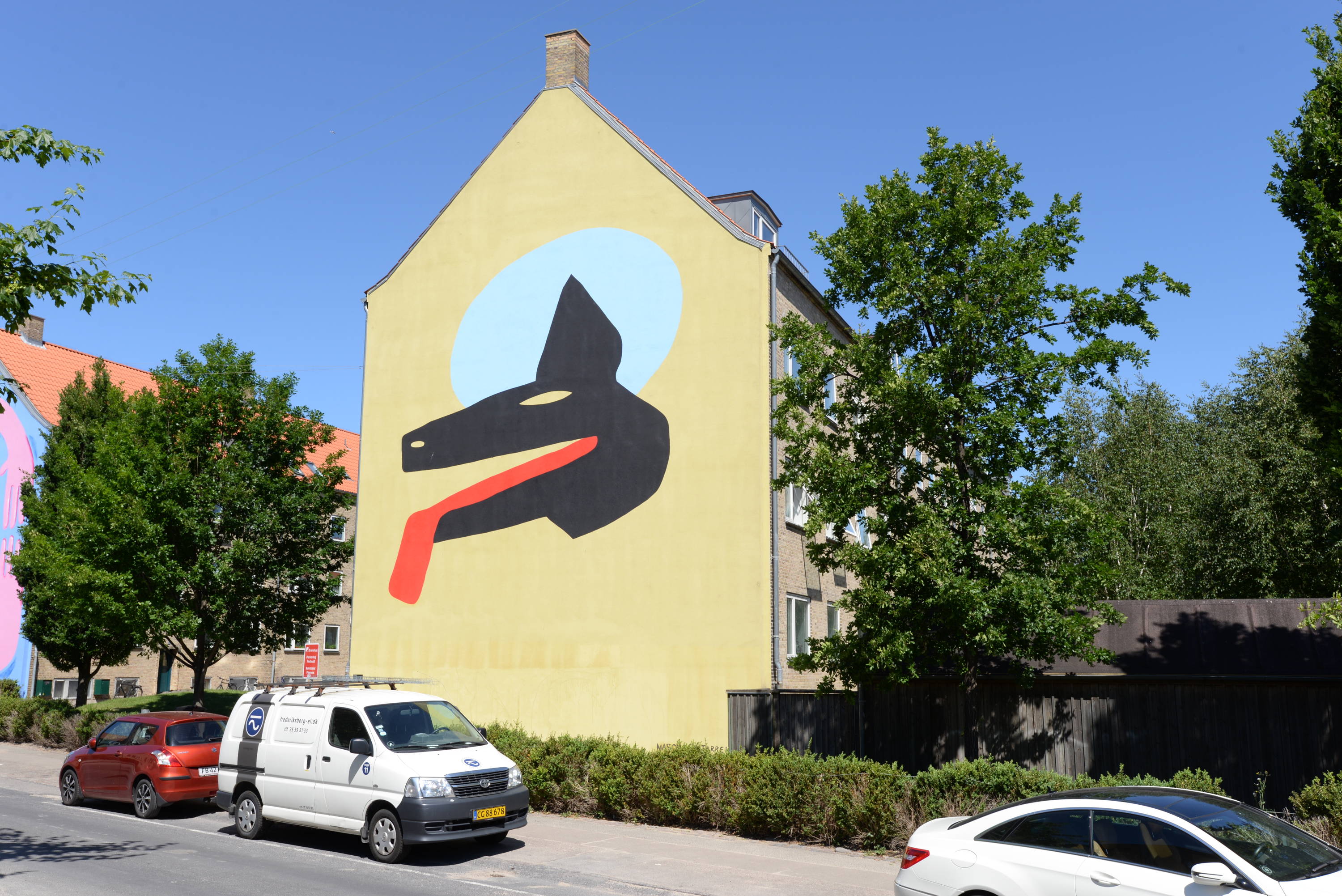 Mural by New-York based Mason Saltarrelli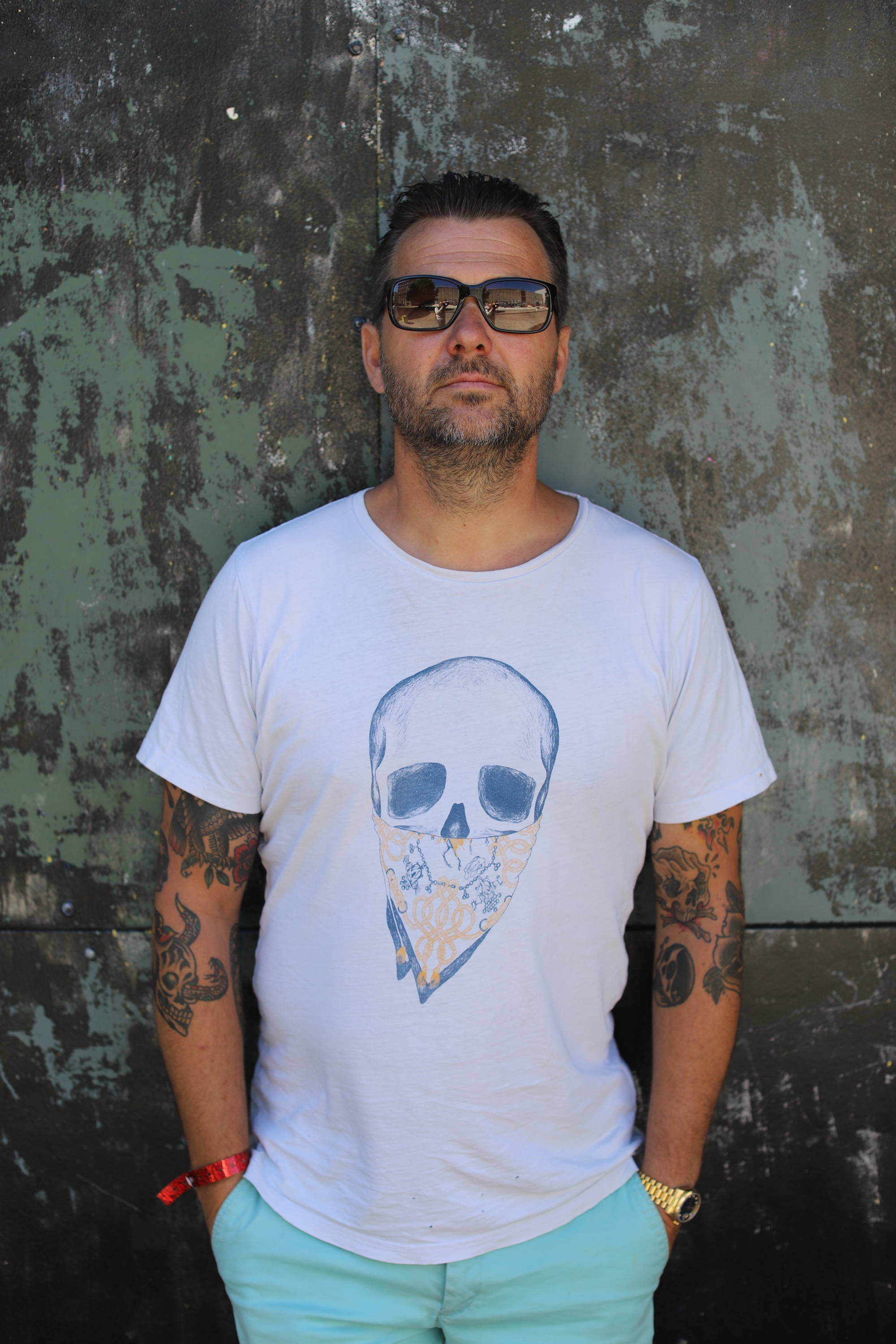 "It all began with my having to curate another mural in collaboration with the American artist Kenny Scharf. But although I had an artist and money for the project, I just couldn't find the right spot for the artwork", says Jens-Peter Brask.
Shortly after he bumped into another prominent Danish art collector, Christian Just Linde. He just had a pizza at the newly opened restaurant Behov on Rentemestervej in Copenhagen Nordvest. He told Jens-Peter that the pizzaria owner knew a guy from the residential project A/B Mønten across the street. They, he said, might have some gables that Jens-Peter could use for a project.
" As it turned out they had 16 gables which were perfect for murals. They were in on the idea from the very beginning. Not only did they see a huge value the project would have for the residents at A/B Mønten, but for the whole neighborhood", he says.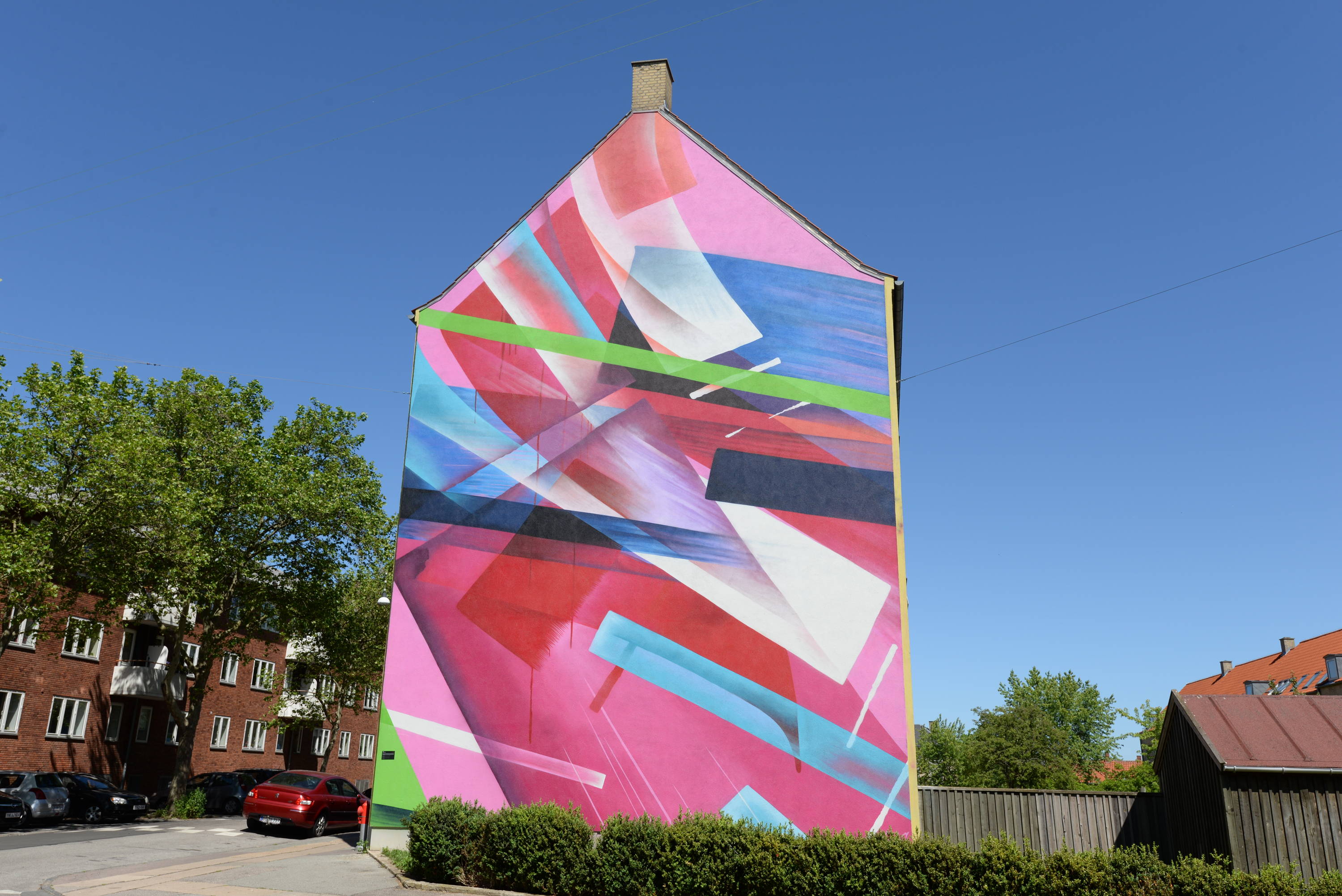 "The connecting thread in the project is that the level of the artists is high, the level of artistic quality is high and the pieces speak to a wide range of people – for the very same reason it was important for me as a curator that the murals had a broad appeal. I gave free hands to the artists and didn't ask them to do anything specific and I have not censored anything out during the process. The artists were asked to do what they normally do. My job was to create a diverse exhibition but at the same time respect the artists and what they do. The only rule I had was that I didn't want any classic graffiti murals. It was important to me that the murals ended up getting as many as possible to open their eyes and to love the world of art. In that respect, the project is a success. I have felt the excitement and interest from both younger and older generations when walking around the neighborhood, says Jens-Peter Brask.  
"It was never the intention that the project should be a tribute to graffiti or street art. It should be 16 murals that would form a whole. It's the largest open-air gallery in Northern Europe. It's an exhibition that should be able to make an impact – wheter you are passing it on your bike and spend 30 seconds glancing at the walls or you take the full tour and spend hours admiring the works," he says.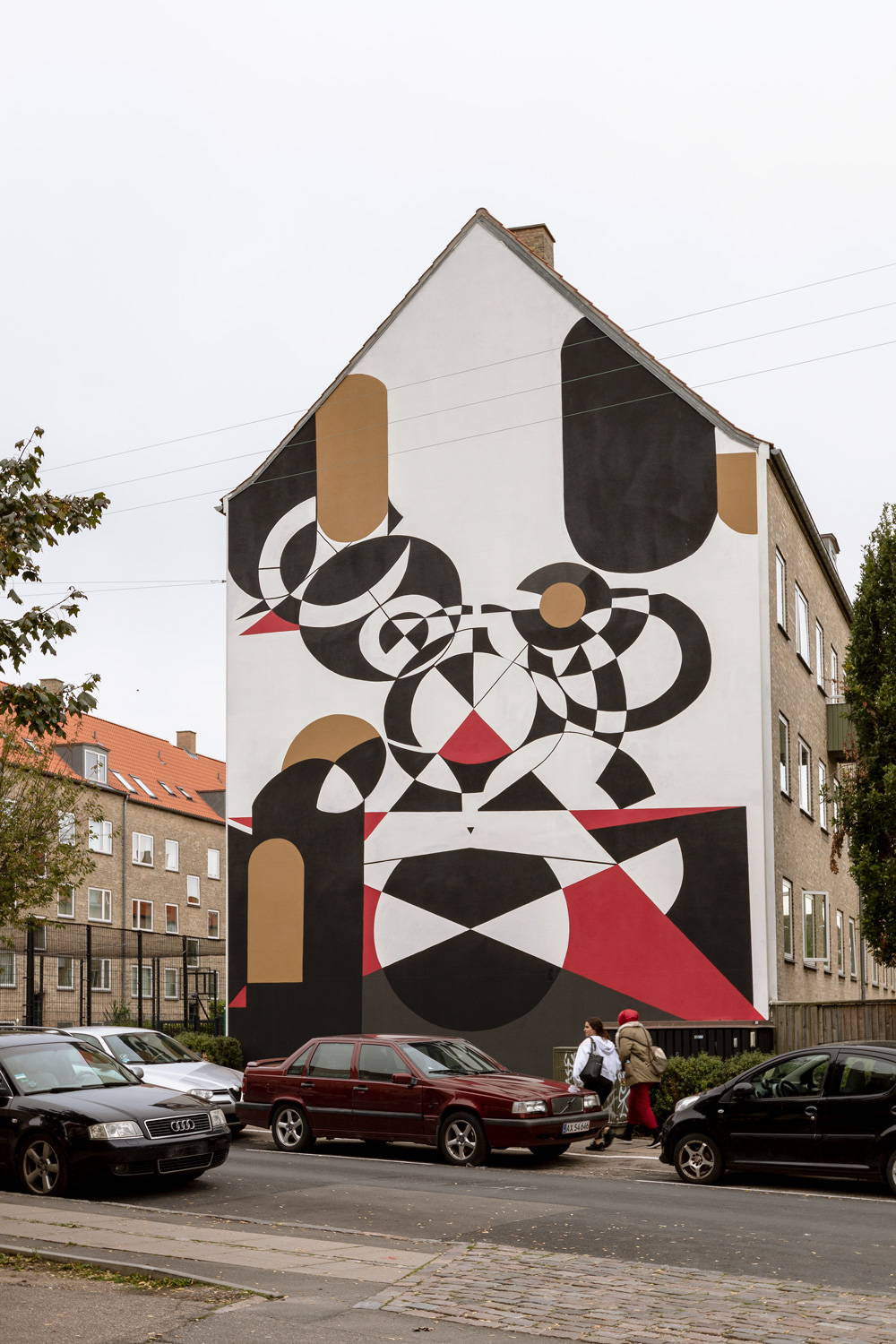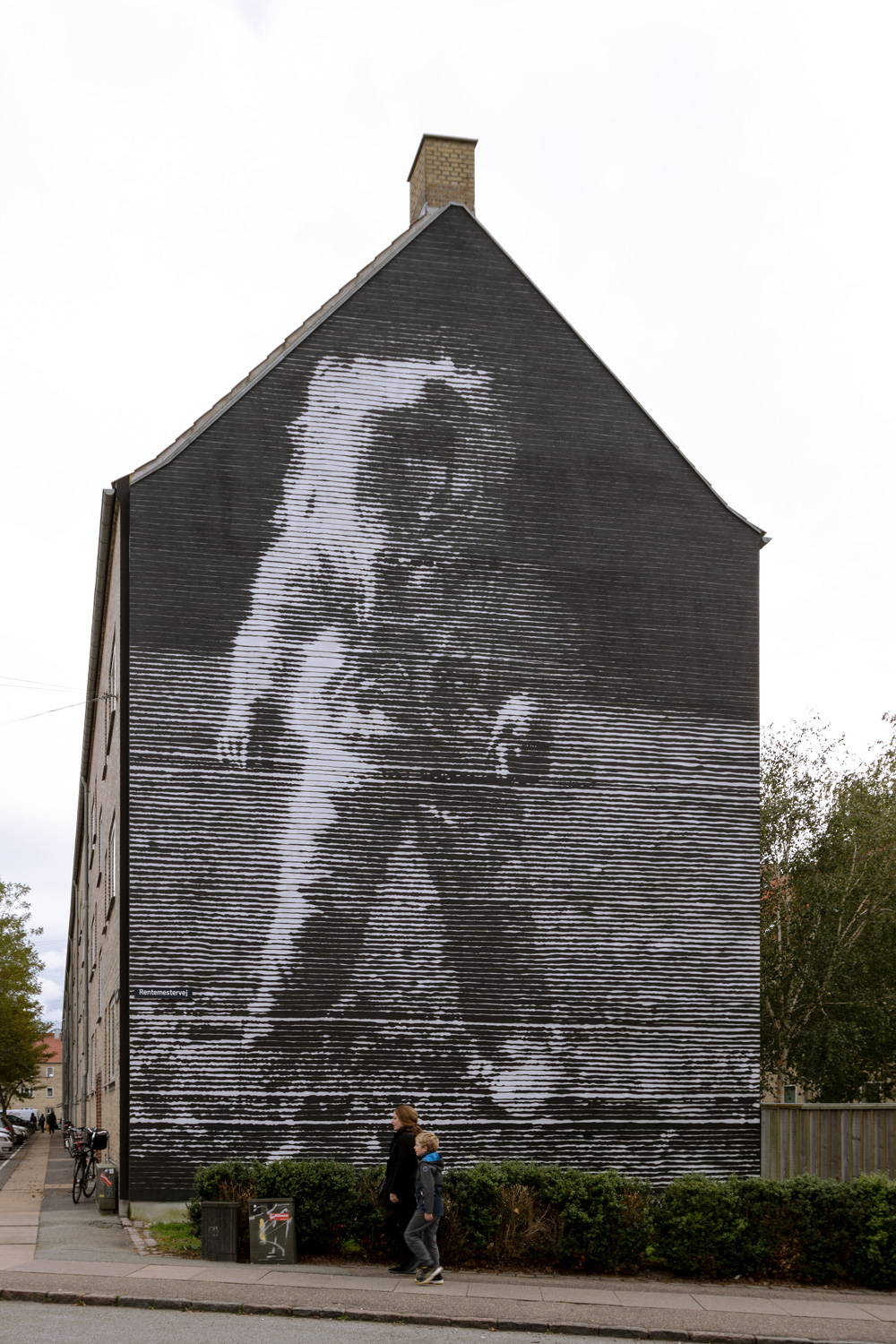 It was somewhat of a coincidence that Jens-Peter Brask was put on the path of the 16 gables in Nordvest. But when thinking about it now he couldn't have come up with a better spot himself.

"The Nordvest area of Copenhagen is what Brooklyn is to New York City. It's in Nordvest that you find a fancy coffee shop or micro-brewery next to a beat-up auto repair shop. It's an area full of contrasts. In downtown Copenhagen everything is perfect and streamlined. Nordvest is free from prejudice, cozy and relaxed – this is where you find the real deal – the true Copenhagener. The exhibition would certainly not be as interesting, had it been in the city center. In Nordvest you don't have a high concentration of highbrows which makes the project fit in perfectly. And it is very rare to find an area with so many gables in such a small area which is the only way that you can truly create the sense of being in a real gallery. That makes it completely unique. It's possible to find similar areas in Berlin and you also have places like Wynwood Wall in Miami, but it's nothing like this. This is one project and one curator. It's 16 murals cramped in an area equivalent to four soccer fields. And people are really happy with the result – the local schools have even started using it for class projects." says Jens-Peter Brask.  
For starters Jens-Peter Brask and A/B Mønten have made a deal saying that the murals are not to be painted over for the next five years but hopefully the sixteen, public works of art will stay for art lovers to enjoy for many more years to come.
The 16 Artists
Peter Birk
CMP ONE
Mikael B.
Jakob Tolstrup
Roman Manikhin
HuskMitNavn
Boy Kong
Victor Ash
MadC
Timmi Mensah
Lady AIKO
Anders Brinch
Jon Stahn
Coline Marotta
Mason Saltarrelli
Dabs Myla
Read more
✕